Legal jobs in Melbourne & Sydney for employees
Kaleidoscope Legal Recruitment is a Melbourne & Sydney based recruitment agency that provides career advice to legal secretaries, administrators, law clerks, paralegals, librarians and executive assistants in the legal industry. We have professional working relationships with boutique, mid-tier and top-tier law firms as well as government and in-house corporations both in Melbourne, Sydney and throughout Australia. Legal jobs we recruit for range from entry level, junior legal administration jobs to senior legal secretary and executive assistant vacancies, working in generalist positions as well as in specialised areas of law.
Our recruitment process
If you're a legal secretary looking for a new challenge in your next career move, or just after a change, a great way to start is to check out our vacancies and all current available roles. Please contact one of our experienced legal recruitment consultants directly to further discuss career options and employment possibilities.
We take your career goals and professional aspirations seriously. We are a highly accessible legal recruitment agency who is proactive and dedicated to your needs. We are available to discuss career paths, salary reviews and interview advice with you.
In order to help you best showcase your skills and experience, our legal recruitment consultants have created a few guides with useful hints and tips specific to legal secretary jobs, from deciding what to put in your CV to answering interview questions.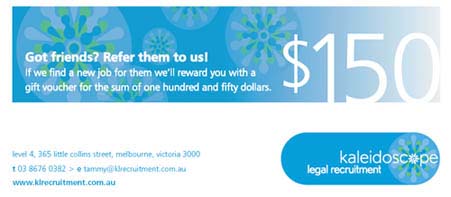 Click here to print for our Referral Voucher
CAREER SEARCH
Hundreds of jobs available now. Search our current roles.
SUBMIT A CV
Send in your CV to one of our consultants today.
EMPLOYERS
Contact us to discuss legal staffing solutions.